Khawzawl, the 9th September, 2021
Vawiin chawhma dar 11:00 khan District Level Standing Committee (DLSC), Khawzawl District chu an Chairman Pu C.C. Lalchhuangkima, District Election Officer, District Bawrhsap ni bawk hovin DC Office Conference Hall-ah an thukhawm a, Special Summary Revision of Photo Electoral Rolls (SSR), 2022 atana Polling Station thlak ngai chungchang an sawiho.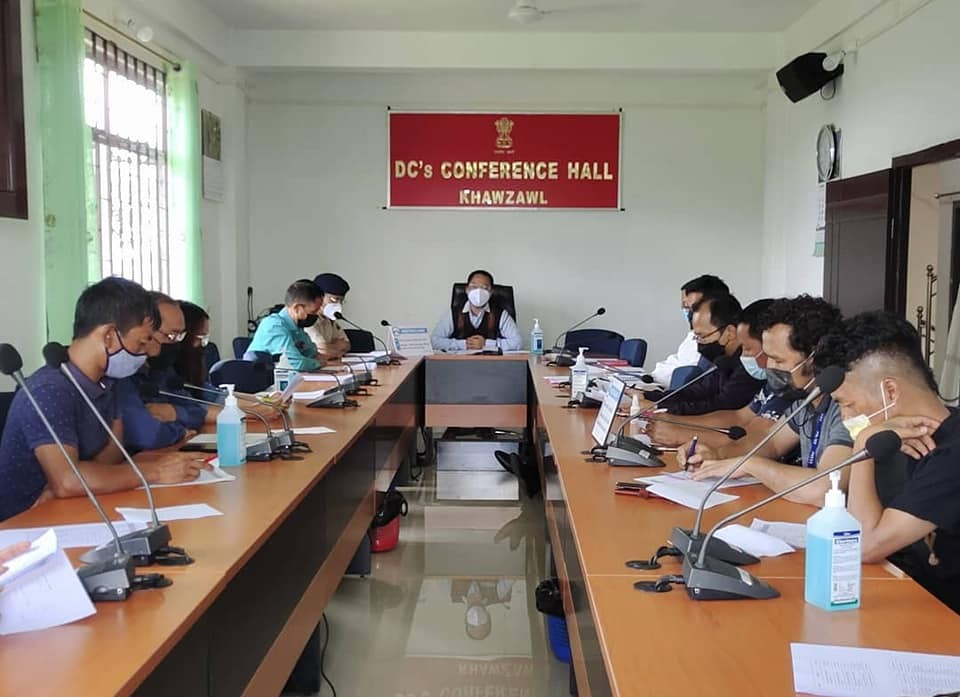 Vawiina DLSC meeting-ah hian Pu C.C. Lalchhuangkima chuan India ram chu ram hruaitu thlang thin kan nih angin Election kalphung dik leh felfai a pawimawh hle a, chumi atana pawimawh ber pakhat chu Electoral Roll dik leh tha neih a ni, a ti a. Electoral Roll felfai leh rintlak a awm theih nan an hma zawn theuha theihtawp chhuah turin member te chu a sawm zui a ni.
Pu H. Lalramenga, Election Officer leh AERO in a tarlan danin Khawzawl District Election Officer hnuaiah 22-Tuichang Assembly Constituency awmin, Polling Station 28 a awm a, heng zinga 13 te hi Urban Area-ah awmin, Rural Area-ah Polling Station 15 a awm thung a ni. District Election Officer kaihhruaina hnuaiah Electoral Registration Officer (ERO) pakhat, Assistant ERO pahnih leh Booth Level Officer (BLO) 28 ten Assembly Constituency hi an enkawl a ni.
Meeting-ah hian Election Commission of India dundan hrang hrang, Polling Station pakhata Elector 1,500 aia tam lo awm te, Vote thlak tur Elector-te chenna atanga kilometre hnih aia hlaah vote thlakna hmun Polling Station a awm tur a ni lo tih te, Polling Station atana hman building neitu chu Political Party behchhan nei a ni tur a ni lo a, tui leh eng, inthiarna leh Assured Minimum Facility dangte a awm tha tur a ni tih tarlan a ni.
DLSC meeting-ah hian Polling Station thlak chungchanga BLO te rawtna thehluh thlirho a ni a. Khawzawl Vengthar South Polling Station hman lai chu Sawrkar Office (Samagra Shiksha) atan hman a nih tak avangin Govt. Primary School-II a thlak nise tih leh, Khawzawl Zaingen venga Polling Station building hming chu Sawrkarin a thlak tawh angin, Govt. PS-III atangin Govt. PS-I tiin thlak ve nise tihte chu pawm a ni a, thuneitu sang zawkte hnenah pawmpui tura thawn a ni ang.
Meeting ah hian Systematic Voters Education and Electoral Participation kaltlanga Election kalphung leh Electoral Roll Revision chungchang, mipui hnena zau zawka thehdarh dan turte sawiho a ni bawk.
Vawiina meeting-ah hian Pu Lalchunglura, Superintendent of Police, Pu James Lalnithanga MCS, ERO, Dr. Saithangpuia MCS, AERO te bakah District Education Officer aiawh, Mizoram Journalist Association, Political Party hrang hrang, tlawmngai pawl (YMA, MHIP leh MUP) leh MZP aiawhte an tel a ni.
Written by H. Lalramenga, SDC, Khawzawl District