Khawzawl, the 17th February, 2022:
Vawiin chawhma dar 10:00 atang khan District Election Officer, Khawzawl District buatsaihin Khawzawl khawpui chhunga hmun lun lai pahnih – Taidawnkawn, Zaingen Veng leh Khawzawl Vengthar-ah te Election chungchang inzirtirna campaign, Systematic Voters Education and Electoral Participation (SVEEP) Street Campaign buatsaih a ni a, District Bawrhsap Pu C.C. Lalchhuangkima, District Election Officer ni bawk chuan telpuiin, ngaihtuahna thianghlim leh rilru fim tak pu chunga vote thlak thin turin mipuite a chah nawn.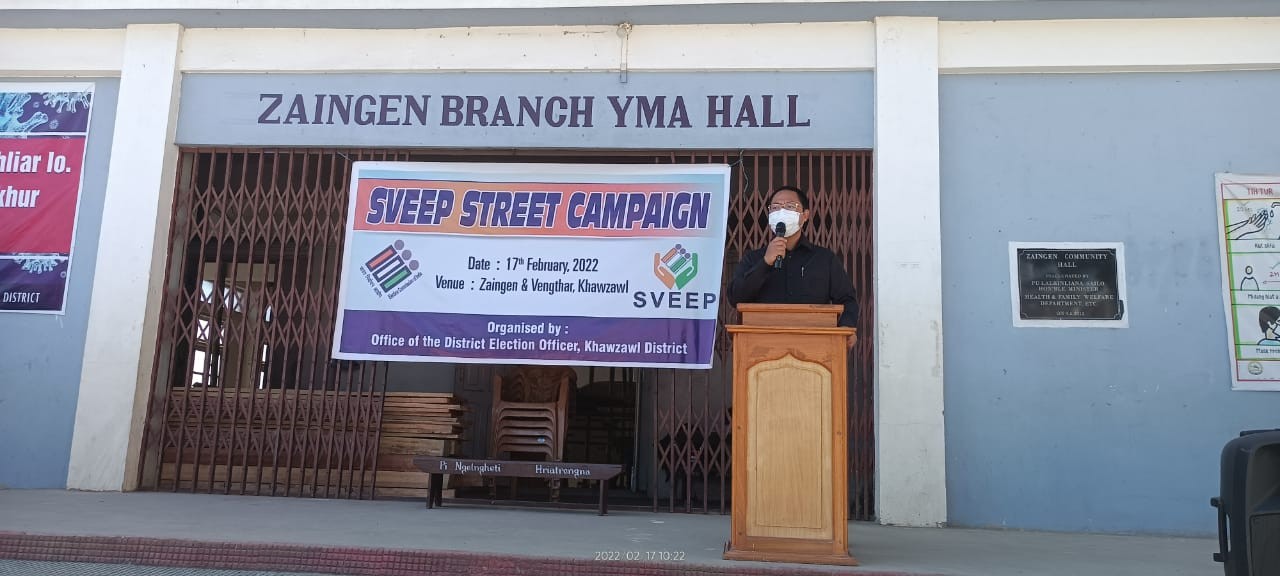 Khawzawl District Bawrhsap chuan democracy ramah roreltu an inthlak thin a. Ram inrelbawlna leh ram kalphung pawh mipuiin vote an thlak vanga inthlak thin a ni a, chuvangin vote neih mai duhtawk lova, ram tana tha ber tur ngaihtuah chunga inthlanna-a tel thin turin ngaithlatute a chah a. India ram inthlan dan system chu rintlak leh felfai, ramdang pawhin an zir leh entawn a ni tih a sawi bawk a ni.
Vawiina SVEEP Street Campaign hi Pu H. Lalramenga, Election Officer in kaihruaiin, Covid-19 hrileng vanga mipui inkohkhawm theih a nih loh avangin District Election Office chuan thahnemngai takin khawlaiah campaign a buatsaih tih a sawi a. Inthlanna felfai leh langtlang, a result pawh mi zawng zawngin an pawm tlan theih nei tur chuan voter te kan rinawm hmasak a ngai a ni, a ti bawk.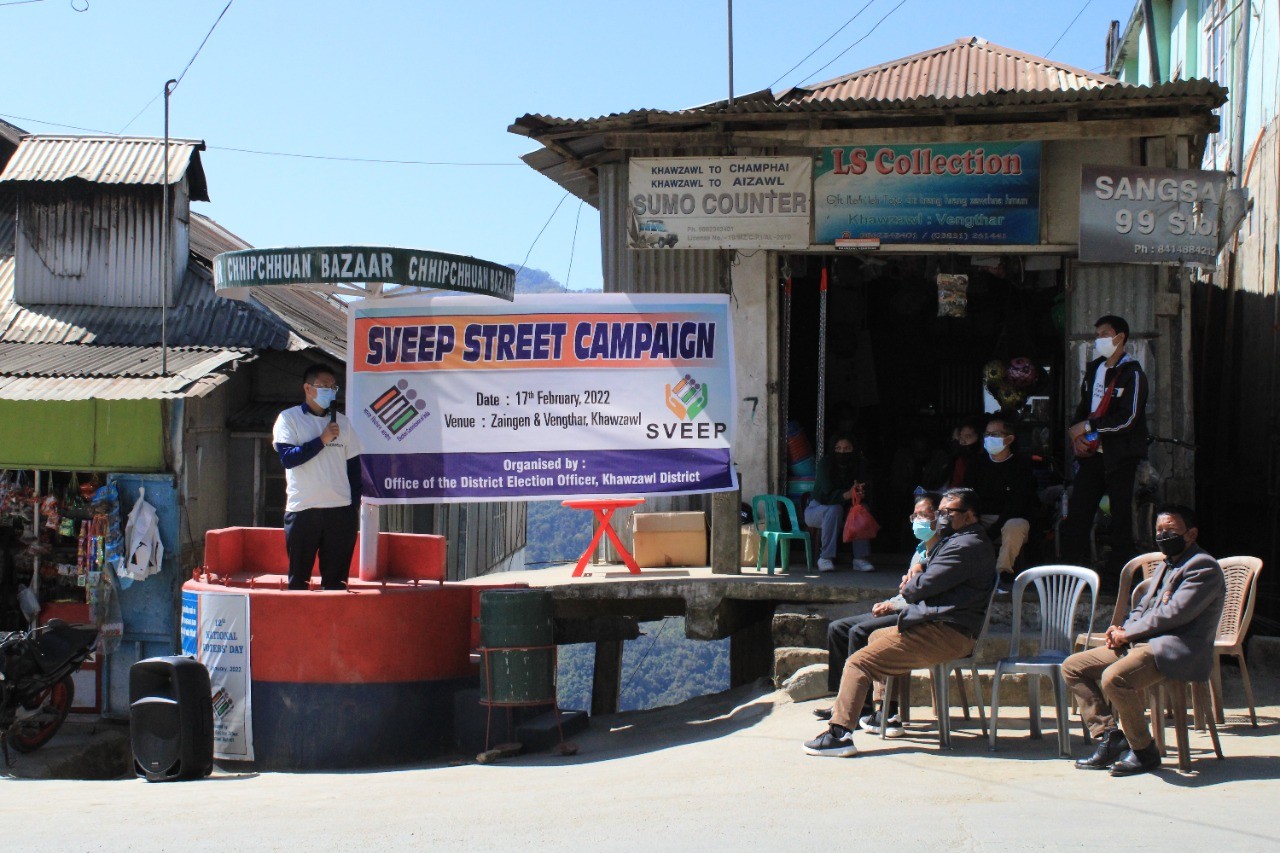 SVEEP Street Campaign-ah hian Zaingen Booth Level Officer (BLO) Pu Lalhumhima, Khawzawl Vengthar South BLO Pu H. Lawmthanga leh Khawzawl Vengthar North BLO Pu K. Thantluanga te pawhin thu an sawi a. Pu Lalrinawma Kholhring, DEO hnen atangin Khawzawl Election Office hnathawh kalhmang leh mipuiten an chhawr theih dan tur hrang hrang ngaihthlak a ni bawk.
Campaign neihna bulhnaia dawr leh mipui veivakte hnenah Electoral Literacy Club, Government Khawzawl College kaltlangin Electoral Roll-a inziahluh leh vote thlak pawimawh tilang thei SVEEP Bookmark leh chocolate sem a ni bawk a ni.
Khawzawl District Election Officer hian 22-Tuichang Assembly Constituency enkawlin, January ni 15, 2022 a Electoral thar ber tihchhuahah khan voter mipa 8624, hmeichhia 8626, an vaiin 17,250 an awm a ni.
Written by H. Lalramenga, SDC/EO, Khawzawl District