Khawzawl, the 16th February, 2022:
Vawiin chawhma dar 11:00 khan Mizoram Sawrkar, Labour, Employment, Skill Development and Entrepreneurship (LESDE) Department buatsaihin District Skill Committee, Khawzawl District member te tan LESDE Department hnuaia skill upgradation scheme kalpui hrang hrang chungchang inhrilhhriatna leh inzirtirna hun, "Sensitization Programme for Skill Upgradation under SANKALP" neih a ni.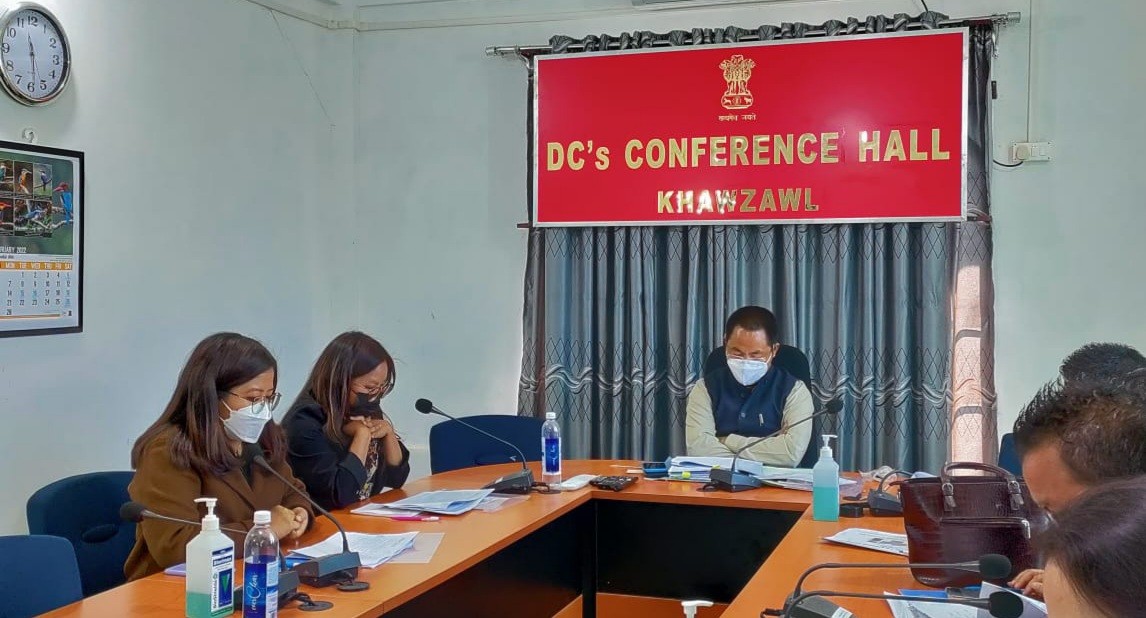 DC Conference Hall, Khawzawl-a Sensitization Programme neih hi Khawzawl District Bawrhsap Pu C.C. Lalchhuangkima, DSC Chairman ni bawkin kaihruaiin, LESDE Department in District te a hmun ngeia kalchilh a inzirtirna hun an buatsaih chu lawmawm a tih thu a sawi a. Khawzawl District chu Skill Development chungchanga theihna sang tak nei a ni tih sawiin, District Skill Committee hmalak tawhna te a tarlang bawk a ni.
He hunah hian Pi Jordanthangi, Employment Officer, LESDE Department pawhin thu sawiin, India ram state dang te nen khaikhinin Mizoram chuan Skill Development-ah hmasawn a la ngai hle a ni, a ti a. Chak zawk leh awmze nei zawka hmalak a nih theih nan DSC chu a pawimawh hle tih sawiin, kumin October thlaa Shanghai, China-a World Skill Competition (Olympics) neih turah Mizoram atangin mi pahnih an tling tih a tarlang tel bawk.
Vawiina Sensitization Programme-ah hian Pi Jordanthangi bakah LESDE Department atangin Pi Regina Malsawmdawngzeli Ralte, Mission Manager (SANKALP) ten Powerpoint Presentation hmangin SANKALP, PMKVY leh Craftsmen Training Scheme chungchangah kalkhawmte zirtirna an pe a. Pu T. Hmingthanmawia, Training Provider (AccentPlus) in Training petute kaihhnawih zirtirna a pe bawk a ni.
Training zawhah hian zawhna leh chhanna hun bakah hmalak zel dan tur sawihona hun neih zui a ni a. Khawzawl District-a Training Centre changtlung tak neih a nih theih nan te, mipui zau zawk huapa Khawzawla Awareness Campaign neih theih dan turte sawiho a ni.
Written by H. Lalramenga, SDC, Khawzawl District