Khawzawl, the 23rd July, 2021: Vawiin chhun dar 12:00 khan Pu Zothanmawia, Deputy Commissioner, Khawzawl District chuan Khawzawl DC Office Complex sak hna thawh bul tan mek chu a hmunah kala tlawhin, hnathawh kalpui mek dan a enfiah a ni.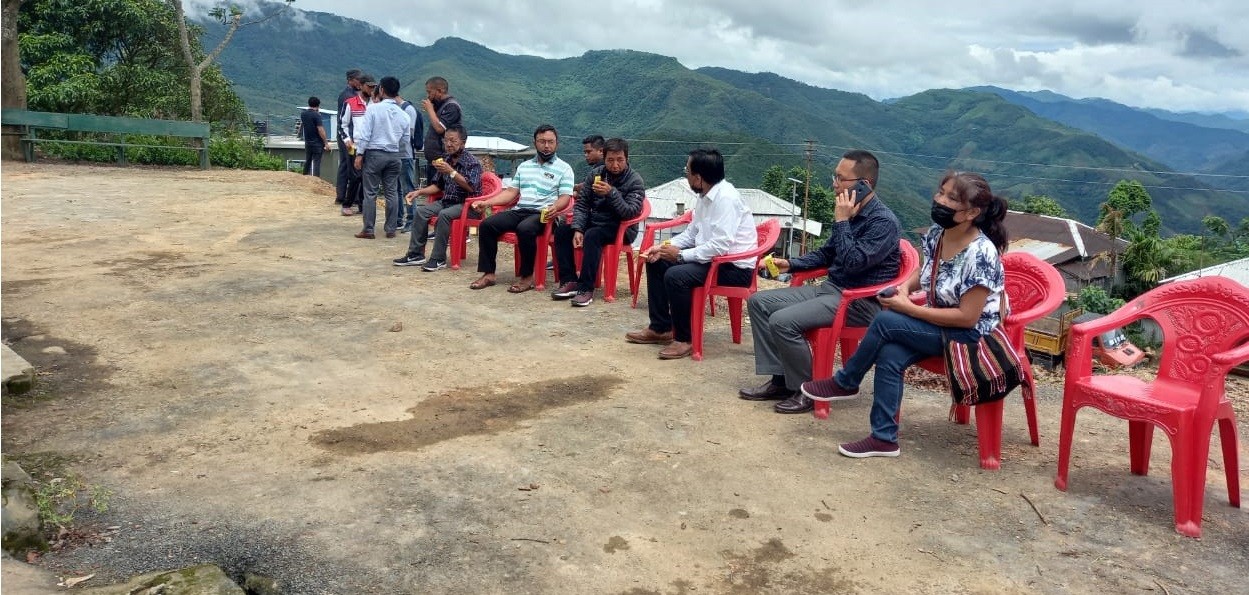 Pu Zothanmawia chuan DC Office Complex tur sak hna thawktu Contractor-te chu hna tha leh tlo, khawtlang leh ram tana rotling leh chhinchhiah tlak tak sa puitling tura chahin, hunbi tiam chhunga hna thawh zawh ni se a duh thu a hrilh a ni.
Khawzawl District DC Office Complex tur hi Khawzawl khawpui chhung laili lai, Dinthar vengah sak a ni dawn a, he hna enkawltu PWD Project Division III thawktute chuan Office tur hi feet 100-a sei, feet 40-a zau, feet 39-a sang, chhawng thuma sak a ni dawn tih an tarlang a, pawisa sen tur zata ruahman hi cheng 10,00,00,000 (Cheng nuai sangkhat) a nih thu an sawi bawk a ni.
Khawzawl District Bawrhsap Pu Zothanmawia'n DC Office tur sak hnathawh bul tanna a tlawhnaah hian Additional Deputy Commissioner Pu Lalrohlua leh SDC Pu H. Lalramenga ten an tawiawm a ni.

Vawiin vek khan Khawzawl DC Pu Zothanmawia chuan Khawzawl Hermon Veng-a Khawzawl Power Sub-station to East Lungdar power/electric hrui 132KV line pawh enfiahin, he hrui hi a bula in thenkhatte tan a hlauhawm theih dawn avangin hmun sang zawkah a ban phun sawn tura tih a ni a. A ban phun sawn theih hma chu tun aia sang zawka a hrui kaltir dan ngaihtuah a hma lo la turin EE, Khawzawl Power Division leh Hermon veng Village Council-te chu ruat an ni a, a tul chuan sawrkar hotute hnenah pawh thlen a nih tur thu tarlan a ni.
Khawzawl District chhungah Mizoram sorkar chuan hmasawnna hna lian tak tak kalpui mek zelin, Vankal-ah Mizorama Solar Project lian ber, 20 MW pe chhuak thei tur bun hna kalpui mek a ni a. National Highway No. 6 laih zauh hna kalpui mek a nih bakah PWD enkawlna hnuaiah PMGSY project atangin hmun hrang hrang pakua; Rabung leh Aiduzawl inkar kawng, Khawzawl leh Neihdawn inkar kawng, Chalrang leh Vangtlang inkar, Khawzawl leh Ngaizawl inkar, Khawhai leh Tlangpui inkar, Ngaizawl leh Tualpui inkar, Khawzawl leh Hmuncheng inkar, Khawhai leh Lungtan inkar, Khawzawl leh Vankal inkar kawng laih hnate thawh a ni bawk.
Written by H. Lalramenga, SDC, Khawzawl District