Khawzawl, the 10th March, 2022:
Vawiin khan District Disaster Management Authority, Khawzawl District leh National Service Scheme (NSS), Government Khawzawl College te buatsaihin College zirlai leh thawktu te tan chhiatrupna hmachhawn dan inzirtirna, "Capacity Building Training for Response to Disasters" neih a ni a. He hun hi Pu C.C. Lalchhuangkima, Deputy Commissioner & Chairman, Khawzawl District Disaster Management Authority chuan khuallian niin a hmanpui.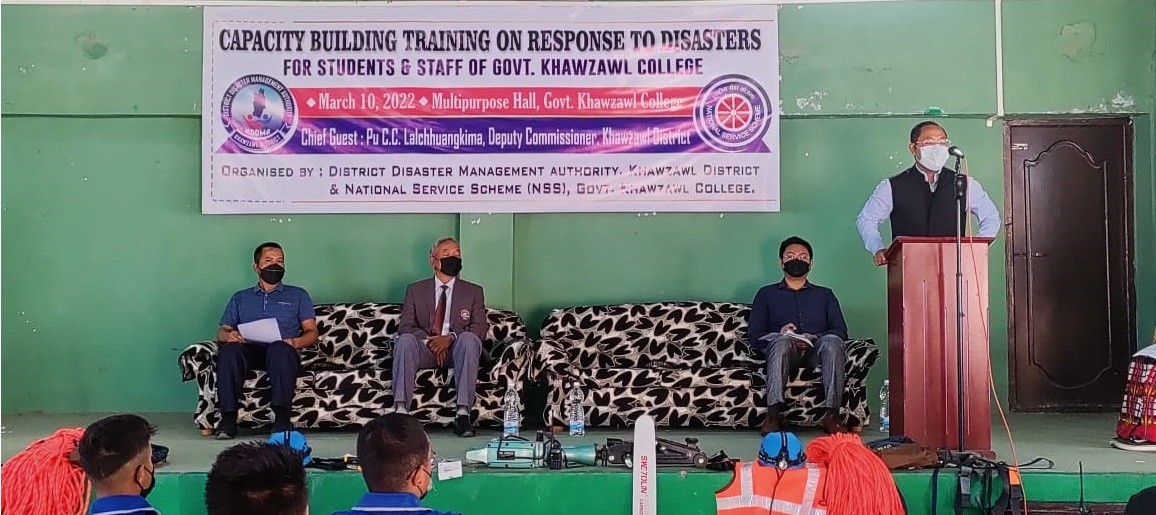 Training hawnna hun, Multipurpose Hall, Govt. Khawzawl College a neihah District Bawrhsap Pu C.C. Lalchhuangkima chuan thu sawiin, thalaite chu chhiatrupna a thlen changa a ngaihna hria leh che chhuak tura beisei an nih avangin thahnemngai leh tihtakzeta training tur te, an thil zirchhuahte chu mamawhtu midang hnena hrilhchhawng zel tur tein a sawm a. Khua a thal chho a, kangmei chhuah duh hun lai a nih chhoh avangin kangmei ven kawnga theihtawp chhuah theuh tur leh, kangmei chhuak an hriat chuan VC leh YMA te hnena hrilhhre vat thin turin a chah a ni. Hun lo kal zelah Government Khawzawl College chu luh chakawm taka siam turin zirlai leh thawktute chu thahnemngai sauh sauh turin a sawm nghal bawk.
Vawiina trainingah hian Khawzawl DDMA hnuaia Quick Response Team member-ten chhiatrupna a thlen changa mipui vantlang in chhanchhuah hna an thawh theih dan, "Community-based Search and Rescue" technique hrang hrang an entir bakah First Aid chungchang te, hliam tuar zawnna siamchawp dan te, chhanchhuah hna thawh nana pawimawh hmanraw hrang hrang sawifiahna leh a hman dan inzirtirna te an pe a. Heng inzirtirnaahte hian zirlai naupang a tam thei ang ber a taka tihtir ve zel an ni. Pu H. Lalramenga, Sub-Deputy Commissioner & Nodal Officer, DM&R chuan powerpoint presentation hmangin Lirnghin laia tih tur leh tih loh tur te, India rama Disaster Management nihphung te zirtirna a pe bawk.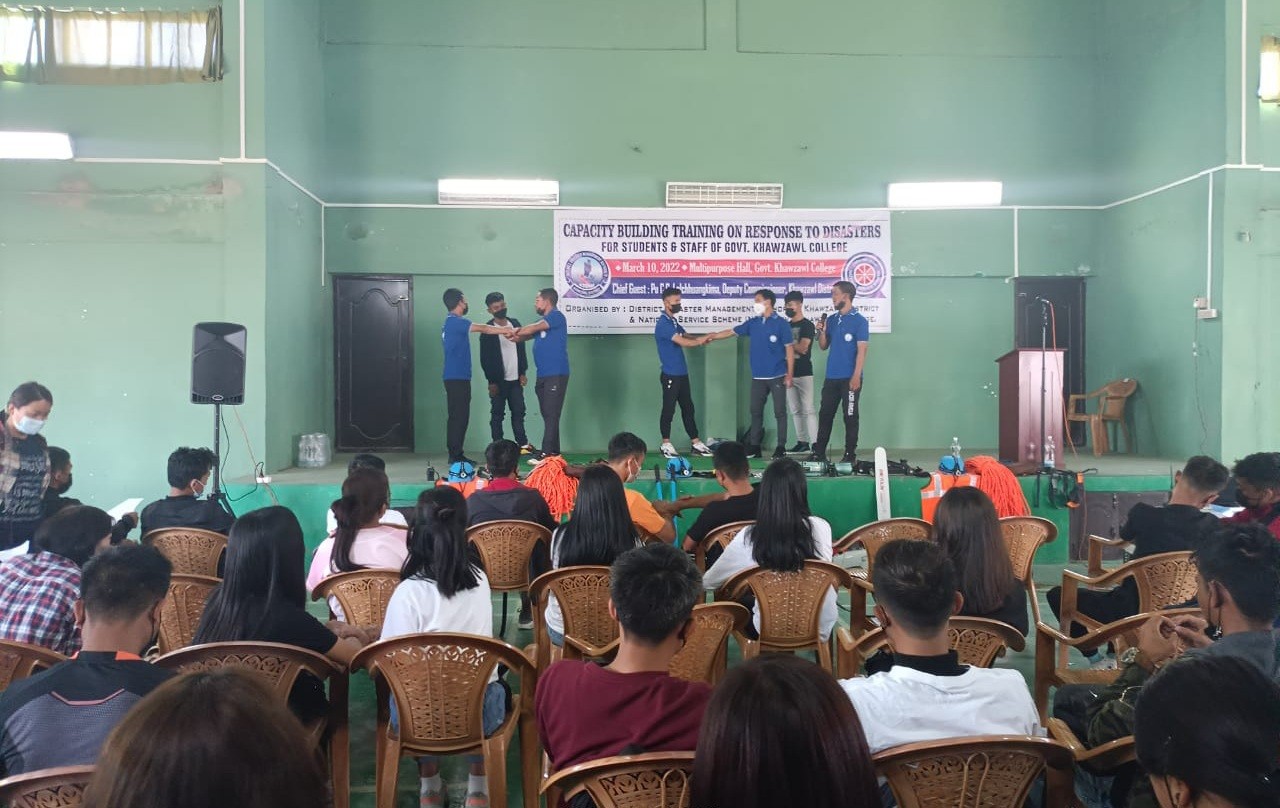 Vawiina training-ah hian Government Khawzawl College-a zirlai leh thawktu mi 100 bawr vel an tel a. Pu K. Ziona, Principal, Government Khawzawl College-in kalkhawmte lawmna thu sawiin, Pu Lalchhanchhuaha, Assistant, DC's Office in lawmthu sawina in training a khar a ni.
Written by H. Lalramenga, SDC, Khawzawl District