Khawzawl, the 16th August, 2021:
Independence Day, 2021 chu India ram hmun dang ang bawkin Khawzawl District-ah pawh lawm a ni a. Khawzawl District-a lawmna pui ber chu Deputy Commissioner's Office kawt, Khawzawl Darngawnah nimin zing dar 8:00 khan neih a ni.
Khawzawla Independence Day lawmnaah hian Pu Lalchhandama Ralte, Hon'ble Minister, School Education etc. chu Khuallian (Chief Guest) niin, Pu C Lalmuanpuia, Hon'ble MLA & Vice Chairman, Veterinary etc. Board leh Pu Lalrinsanga Ralte, Hon'ble MLA & Vice Chairman, Rubber & Allied Crops Board te chu Khual Zahawm (Guest of Honour) an ni.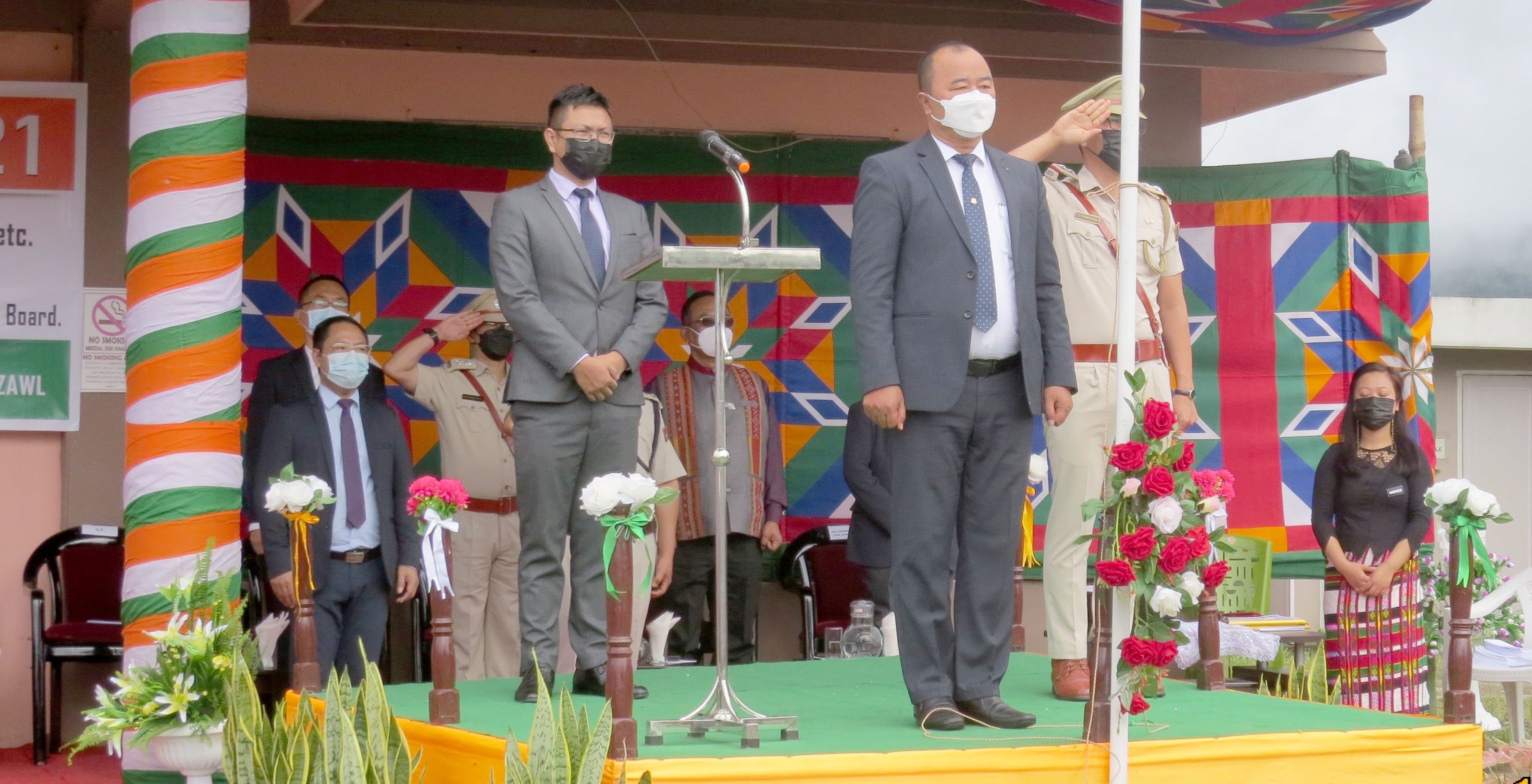 Lawmna programme-ah hian Khuallian Pu Lalchhandama Ralte chuan hnam puanzar pawt pharhin 2nd IR Bn te Rashtriya salute a chhang a. Nikum Independence Day leh kumin inkara Khawzawl District-a hmasawnna hrang hrang te tarlangin, Pu Tawnluia, Deputy Chief Minister leh bialtu MLA in a bial chhunga kum 2020 leh 2021 Undergraduate result-a zirlai tithate award a siamsak leh, Khawzawl District Teachers Award, 2021 te a sem bawk a ni.
Pu Tawnluia, Deputy Chief Minister zahawm tak in CSR kaltlanga Khawhai leh Sialhawk PHC a ambulance a hmuhsak te chu Khualzahawm Pu C Lalmuanpuia leh Pu Lalrinsanga Ralte ten Medical Officer te kutah an hlan a ni.
Independence Day lawmna programme ah hian mipui nawlpui kal theih a nih loh avangin, in lama thlir theih turin DC Khawzawl Facebook page ah live a ni bawk.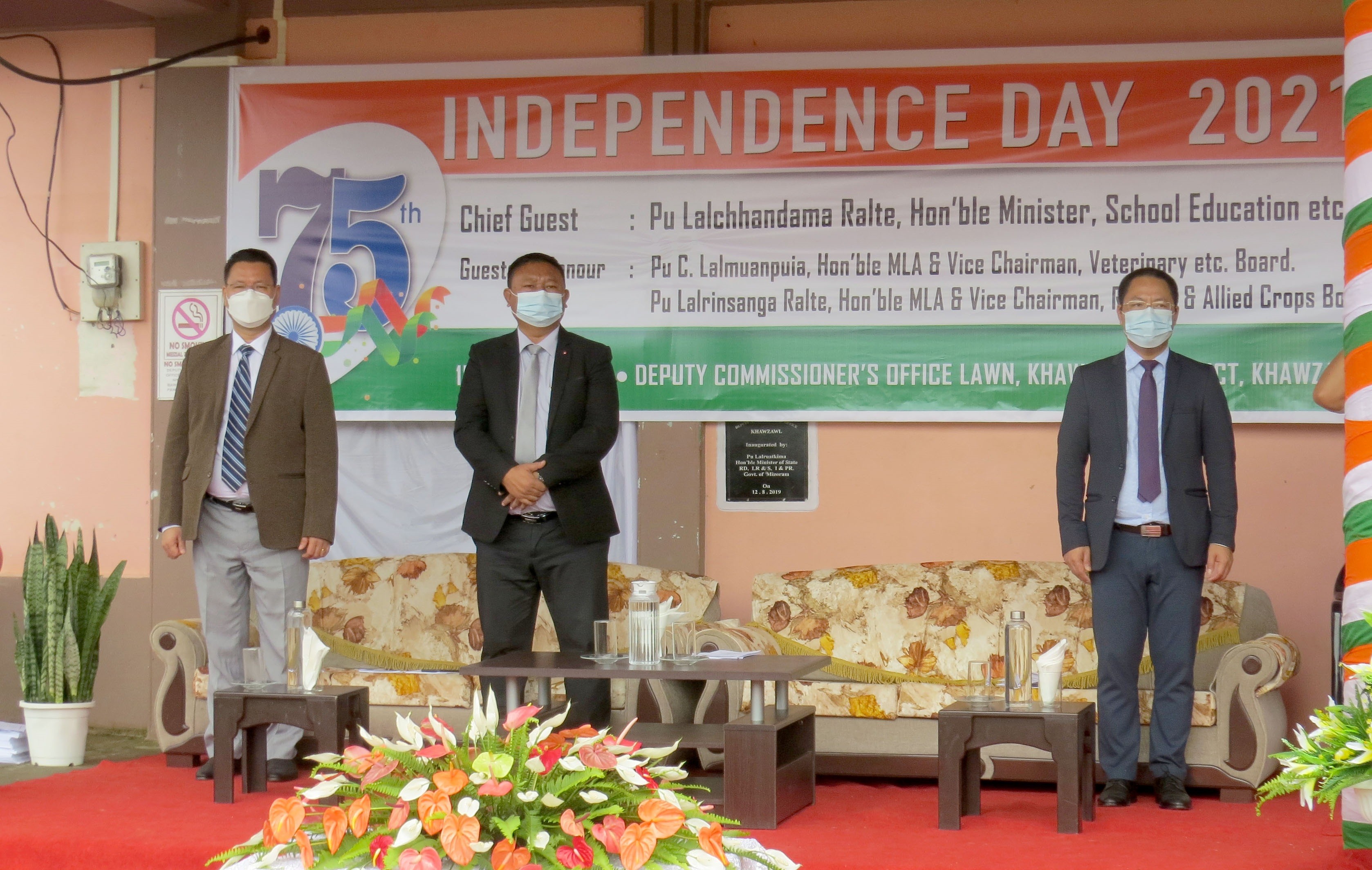 Khawzawla Independence Day lawmna kimchang hi a hnuaia link ah chhiar theih a ni e:
dipr.mizoram.gov.in/post/khawzawlah-independence-day-vawi-75-na-school-education-minister-pu-lalchhandama-ralte-hovin-lawm
Programme for Celebration of Independence Day, 2021 in Khawzawl
0758 Hrs : Arrival of VIPs at Deputy Commissioner's office lawn
0800 Hrs : Unfurling of National Flag by Chief Guest, followed by playing of National Anthem and Rashtriya Salute
0805 Hrs : Speech by Chief Guest
0825 Hrs : Distribution of awards by Chief Guest (sponsored by Pu Tawnluia, Hon'ble Deputy Chief Minister, Mizoram)
0835 Hrs : Distribution of Khawzawl District Teachers Award, 2021 by Chief Guest
0840 Hrs : Dedication of Ambulances to MOs, Khawhai PHC and Sialhawk PHC by Guests of Honour (given by Pu Tawnluia, Hon'ble Deputy Chief Minister, Mizoram through CSR)
0845 Hrs : Rashtriya Salute
Written by H. Lalramenga, SDC, Khawzawl District